MEO KALORAMA Festival
Parque Da Bela Vista, Lisboa.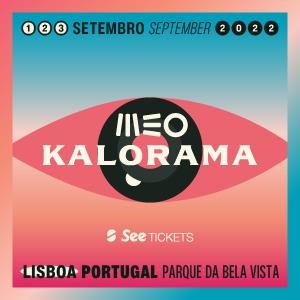 General Sale
This event is for 6 and over - No refunds will be issued for under 6s.
Some or all of the items for this event require you to enter a promotional code.
Please enter your details below to buy tickets.
---
More information about MEO KALORAMA Festival tickets
There is a new era coming. One that knows how to enjoy every moment as it truly is – unique and unrepeatable. September 1, 2 and 3, 2022 at Parque da Bela vista in Lisbon.
An age that comes with a thirst to touch, to look, to feel. The one who wants hugs instead of likes, smiles instead of comments. Lisbon will travel back in time and experience the true meaning of live music.
The era that knows there's life beyond online and that 'being present' is not synonymous with 'having Wi-Fi'
Line up: Arctic Monkeys, The Chemical Brothers, Kraftwerk, Ornatos Violeta, Chet Faker, Moderat, Blossoms, Peaches… and many more!
instalments, up until the closing date of 30/06/2022 at 23H59pm.
During the purchasing process you will be given the option to choose the instalment purchase at the bottom of the page.
Once the instalment purchase has been selected, the first instalment (and associated operational fees) will be charged and the remaining two instalments will be automatically paid by direct debit by the date of the festival (as per payment schedule below).
If you have not paid in full by the date of the last payment, you will lose your booking rights and therefore any rights to the ticket in accordance with our legal terms and conditions. There is no refund for non-payment of one or more instalments.
The instalment purchase is subject to the same terms and conditions as the general purchase.
The festival ticket is sent to your email as soon as all instalments are paid.
Instalment collection map:
For purchases made until 31 January 2022
2nd instalment will be charged on 01 March 2022
3rd instalment will be charged on 01 May 2022
For purchases made between 01 February 2022 and 31 March 2022
2nd instalment will be charged on 01 May 2022
3rd instalment will be charged on the 1st July 2022
For purchases made between 01 April 2022 and 30 June 2022
2nd instalment will be charged on 01 July 2022
3rd instalment will be charged on 01 August 2022
CAMPING
MEO KALORAMA Festival has a partnership with Lisboa Camping & Bungalows (https://lisboacamping.com/). Lisboa Camping & Bungalows has 38ha. prepared to receive you in bungalows, spacious pitches for caravans or motorhomes and a large area for tents, for 365 days. It allows you to enjoy a natural environment in the middle of the city, and you may find a squirrel as a neighbour.
Located in the "green lung of Lisbon", this tourist accommodation unit provides all the tranquillity and comfort 20 minutes from the city centre, with direct access via public transport. For more information contact hello@meokalorama.pt